PASSPORT
It is advised that you make certain that your passport does not expire during the trip. To be safe, allow a six month expiration window. It has also been suggested that you photocopy your passport, in case of loss,; it is much easier to replace it if you have a photocopy. The Hard Light Center Front Desk should also receive a copy of your passport.
INNOCULATIONS
Please consult with your physician to aid you with your decision with regard to inoculations. Please provide your inoculation documentation to the Hard Light Center Front Desk.
NEW: In many areas, Costco is now offering travel innoculations. Check your local Costco for details. The prices might be better than your specialty doctor.
For more information, please visit the Center for Disease Control
VISA
You will need to apply for your own Visa – instructions are available at the Hard Light Center Front Desk. 
You may also download information and the application from:Consulate General of India
Alternatively, the easy way is to use the Travisa Outsourcing Company, who also handles visas to India. The cost is $13 more than going through the consulate directly, but this site offers the ability to pay for your India Visa with a credit card (as opposed to cashier's check or money order if you get your visa through the consulate directly), as well as the ability to track your passport and your visa application online, and much of the application process itself can be done online.
US Citizens can get a ten year Visa to India. This costs just a little more, but saves going through this again in just a few years.
MEALS & TIPS
All meals are included with the exception of lunch during the free days at the end of the trip. Please be aware that you will be paying for your own drinks and tips at EVERY meal throughout the trip.
HEALTH ISSUES
The most common illness is diarrhea. You will want to take serious precautions. Here are the foods and drinks most likely to harbor the infectious bacteria that cause trouble:
Leafy green vegetables 
Custards, pastries and other desserts 
Raw vegetables and cold platters 
Raw shellfish 
Any undercooked seafood or meat 
Raw eggs, fresh cheese and milk 
Tap water and ice cubes 
What should you turn to instead? Canned and bottled beverages are safe as is anything baked, boiled or steamed. The high temperatures involved in cooking food kills bacteria. Stick to the following safe foods:
Anything boiled or steaming hot
Bottled water, beer or soft drinks
Bread and tortillas
Packaged butter or jelly
Any fresh fruit, vegetable or nut that must be peeled or shelled to be eaten (bananas, oranges or mandarins – avoid melons)
Undiluted fruit juices
Well-done meat or seafood dishes, eaten while hot
Cooked eggs
Coffee and hot tea
How to Choose an Effective Probiotic
I went to my local Whole Foods and looked at dozens of different brands and formulations of probiotics and I found the best one was: 
Whole Foods Brand 365, High Potency Probiotic, 50 Billion cultures per capsule; key selling points of this fomulation– 
1) Many different strains of bacteria, 10 in this brand 
2) Enteric coated capsule so that none of the bacteria are killed in your stomach acid and are thus effectively delivered to the intestines where you need them. 
3) FOS fructooligosaccharides, a sugar that gives the bacteria in the capsule a good start at colonizing your intestines. This last one is nice to have but not as essential as 1) and 2). 
Many of the probiotics on the market are just not that effective. Some only have one or two bacteria and no enteric coating, which makes them close to useless. 
Yogurt as a probiotic is also not the best choice for two reasons. First, any time you have digestive issues you should always avoid dairy since the intestines ability to produce the lactase enzyme needed to digest lactose is often compromised. Second, your stomach acid will kill all or most bacteria in the yogurt. To explain a little more about the effects of stomach acid you should know that if you drink water on an empty stomach your body doesn't make any stomach acid and the water goes right through the stomach and on to the next digestive step. Thus if you are traveling and ever need to drink water that is somewhat questionable it is always recommended to eat something like a pack of peanuts 30 minutes before drinking the water to allow the stomach acid time to form. Then if you drink a couple of bad bacteria your stomach acid will probably kill them. Although, if you drink a high dose of microbes from very dirty water a few will survive the acid so drinking dirty water is never recommended! But this does illustrate the point that stomach acid is one of your bodies first defenses against microbial invasion and your stomach acid will also kill most of the good bacteria that you take in a probiotic yogurt as well. 
So in summary, I highly recommend any probiotic that has 5 or more different bacterial species AND an enteric coated capsule. FOS fructooligosaccharides is a nice little boost to get them off to a good start. 
Stephanie Connon, PhD Microbiology
FLYING TIME:
Flying time is approximately 24 hours. India is 13.5 hours ahead of Pacific Standard Time. (Note daylight savings begins in March. India is 12.5 hours ahead of Pacific Daylight Savings time.)
LUGGAGE:
One standard size suitcase is allowed plus one carry-on person per person (22"x14"x 9" or 45" overall). A variance of an inch or two is permissible. Two cameras per person are allowed. Keep in mind that although luggage handling is included, you are responsible for carrying your own bags through customs at the airport – so keep them light! The baggage weight varies from airlines to airlines but usually they accept from 65 to 70 lbs.
Within India the weight limit is 20 kgs./ 44 lbs. but for tourists holding tickets paid in dollars — which is the case with your group — they may allow 65 lbs. Also your baggage will be loaded as group baggage so the average should work out in your favor. All hotels have one day laundry / dry cleaning facilities and the weather is usually warm to mild which also helps in keeping the weight of the clothing light. However I would encourage people to keep their bags light — they will be handling it themselves at the airports while we will handle it at the hotels and buses.
PHOTOGRAPHY:
Although photographic accessories such as film and batteries are available, plan to bring enough of your own. Put an extra battery in your large piece of luggage. Airport security officers in India have been known to confiscate batteries from cameras! It is strictly forbidden to take pictures at airports, seaports and military installations.
LANGUAGE:
Although there are many languages and dialects in India, the common one is English! You will not have to deal with a language barrier.
CURRENCY:
There are no restrictions on the amount of foreign currency or travelers' checks a tourist may bring into India provided you make a declaration in the Currency Declaration form given to you on arrival. This will enable you to exchange the currency you brought in but also to take the unspent currency out of India upon departure. Cash, travelers' checks up to $10,000 US need not be declared.
At present ~60 Indian rupees equals $1.00 US. The rupee is fully convertible so there is not much of a black market. In cities you can change most brands of travelers' checks but you'll save yourself hassles if you stick to US dollars! Credit cards are widely accepted – particularly MasterCard, Visa and American Express.
Indian currency notes circulate a long time and therefore become very worn and tattered. Don't accept these bills from shop owners as this money is often refused at other establishments.
TIPPING:
Tipping is virtually unknown in India except in upscale establishments in the major cities. In restaurants and hotels, a 10% service charge is often added to bills. "Baksheesh", on the other hand, a term, which encompasses tipping, is widespread. You "tip" in India not so much for good service but in order to get things done!
LAUNDRY:
Dry cleaning and laundry services are usually reliable in the hotels.
Laundry (not dry cleaning) is also available almost daily at Fire Mountain Retreat.
ELECTRICITY:
Electricity in India is 230volt/50 cycles. Wall plugs are the round, two pronged European type. Be warned that there are frequent power shortages in India. Bring a small flashlight with you.
WHAT TO WEAR:
India is warm throughout the year with temperatures averaging 65 to 90 degrees. Casual attire in cotton and silk are recommended. Shorts are not worn in city streets. Modest attire is required for all ashrams and holy places.
U.S. CUSTOMS:
Returning U.S. residents are permitted $800 in duty-free purchases. A flat 10% charge is levied on the first $1,000 of taxable purchases. 
Customs Info 1 – Top Ten Traveler Tips


LINKS TO MOSQUITO NET VENDORS :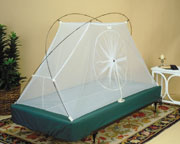 NOTE: Mosquito nets are now provided for each bed at Fire Mountain Retreat. Just in case you are going to other places in India on your trip, some of our HL students have found these valuable: The Long Road, offers 7 styles of travel tents, as well as travel sheets and a travel water purification system. 
Slate Magazine reviews the best mosquito repellents and discusses which are the most natural and most effective.
SOME TIPS ON PACKING SMART:
Travel light! Less luggage means less need for skycaps and easier trips through airport terminals. Prior to packing, make a list of everything you want to take and check-off each item as it is packed. This will help make sure that you don't forget anything. Keep your medications, jewelry, keys, wallets, eyeglasses, tickets, passports, cameras, and other valuables with you in your carry-on bag. Placing garments in plastic bags (like those you get from a dry cleaner before folding and packing help prevent wrinkling. Rolling up pants and t-shirts like a newspaper will lessen wrinkling. Placing rolled-up socks and other soft clothing inside shoes will save space and help the shoes keep their shape. Don't over pack your luggage. Over packing can wrinkle clothing and cause baggage to rip or pop open during handling and transport. Put anything that might spill, break and stain your clothing into enclosable plastic bags or unbreakable containers. Pack a washcloth and a bar of soap. Take a roll or two of toilet paper – it will come in handy. Pack sunscreen. Weather in India