To develop the discipline to sit in meditation every day takes more than will power – it takes a real understanding of why you're sitting there and where you're going with your efforts. Do you even know if you're using your time in meditation to best advantage? Are there ways you can get more out of the time you do invest towards spiritual growth?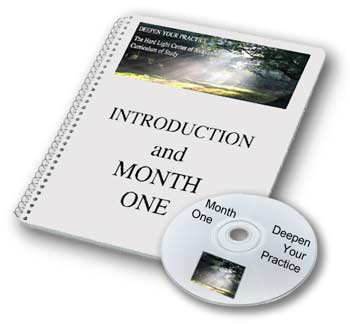 Each month we will send you a guided meditation, question–and–answer session or talk that Mark gave that we feel is key to understanding the path of spiritual training, and to rapidly deepen your experiences along the way.
Think of this as enrolling in a curriculum of study with Mark Griffin…
And after six months in the program, you also get live stream access to an all-day Intensive, so you may receive Shaktipat directly from Mark.
Mark is here to guide us on our path and illuminate the way, but if you work with him – while he's working with you – you'll be amazed at how fast you can progress. How can you do that? Study his teachings. Use the mind, and let the understanding and insights you gain bolster and enrich your sadhana.
Mark's teaching style is so deep and encompassing that people often wonder where to begin studying with him. Where do you start? Is there an order to what you should study, or are there lessons you could turn to? Yes – That's exactly what our Hard Light Subscription Service offers you.
You will receive three components to each monthly lesson:
Audio of the talk (either on CD or as a digital download);
The transcription of the talk – as a PDF, Kindle eBook or wire-bound booklet. Most people find that when they read one of Mark's talks they catch a lot that they missed when they listened to it. Reading gives you time to pause and think about something, or go over one section again many times on your own.
An intro to the topic of the month with an explanation of how it fits into the overall curriculum and scope of what you are studying, a glossary of the Sanskrit or technical terms that Mark has used in that month's teaching, and a few questions for you to contemplate during the month. Questions for contemplation are great because they shake the mind out of passive listening mode and make it work, so you come away with an understanding that's genuinely your own. Your active participation with the teachings makes the difference.
Mark has recently made it very clear that he would like everyone to seriously study his teachings and embrace the teaching vehicle Hard Light has available, called Deepen Your Practice. Click the play button to hear what he says about the program.
And whenever you begin the course – you begin on Lesson ONE. You don't have to try to catch up with anyone who began the curriculum before you. The complete course is covered in 40 lessons.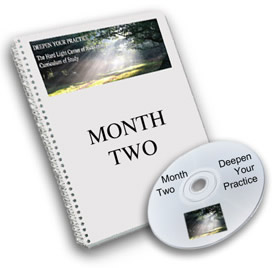 Several of the teachings may come from the weekly talks. This material is normally only available to those who were present during the meeting itself or who are full members. The Monthly Teachings Subscription is a chance for non-members to be able to listen to this core material too, as well as being able to keep an archival copy of it.
Most months you will receive one CD, but there may be other months when the topic covered will require two, three or even four CDs. Your subscription cost is constant throughout, even for these bonus months.
Q: What is the intended "useage" of DYP? Presumably most months will be a talk rather than a guided meditation, so how does DYP fit in with the idea of a daily practice?
A: True – Many people use the DYP as a daily practice. The months that are guided meditations are interspersed throughout the course, blending teaching months with practice months. The line is often blurred though between talk and meditation months, as many people find that they go into very deep meditation with any of Mark's talks, not just the designated meditations.
But many people find that it becomes a daily practice – not necessarily in the context of meditation, but perhaps as they drive to work, or take a hike, or walk the dog – or read while they brush their teeth or have their morning coffee or tea. 
In this way, they end up using it as an inspiration to their sadhana simply by reading it or listening to it whenever they get a chance… like a touchstone.
It turns out that as you work with the teachings in this way, spiritual practice itself expands to fill much more of life than the hour spent in formal meditation. The DYP course is actually a way to do that – to have spiritual practice expand. It's like… the Deepen Your Practice course pushes out the walls. 
Some of our DYP participants have said that listening to the DYP and reading it every opportunity they get replaces all the other 'garbage' that goes on in the mind. Then it's like the entire body of Mark's teachings, in the form of the DYP, becomes a mantra, holding the mind steady and on track, and leading it deeper and deeper within.