Mark Griffin: Excerpts from the 2009 Retreat in Nimboli / Ganeshpuri, India at the Fire Mountain Retreat
"There are some beings, like Bhagawan Nityananda and Bhagawan Muktananda, who are multiple returners. They have been long since awakened, and have returned as an act of freedom, to then generate spiritual grace and mercy. They are fierce warriors. They are the most recent manifestation of the power of this lineage. Bhagawan Nityananda empowered the area of Ganeshpuri in these last fifty centuries; when he came here in 1937 he knew what was here, and it all lay dormant. He came here and switched it all back on.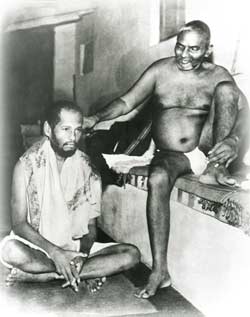 Nityananda is the master of this place. He is completely active and present. Muktananda was his servant. That's how he always described himself. Both their bones are in this valley. Nityananda is a ray of Shiva, and was never human. Muktananda is a multiple realizer, multiple returner.
When Nityananda came here in 1937, he was here in Nimboli, then crossed the river to Ganeshpuri. He talked about building 'roads' and sent Baba out to do so. Baba came to America in early 1974; I met him in 1976. And now we've come back here to build the Fire Mountain Retreat in Nimboli. It's a closed circuit.
When Bhagawan Nityananda came here in 1937, he reactivated it and brought it to its highest operation…I think it's higher now than it's ever been. This is one of the centers of the world; and out of this place, one of the strongest operating guru lineages on the planet is based. That's why we care about this place, that's why we come here; that's why we built an ashram here.
The intent of the Siddha lineage is to awaken human beings as fast as possible through the energy of Shaktipat. The lineage is an endless, glittering, radiant chain of enlightened beings. Each in their own moment looked within themselves and found the ocean of consciousness; this happened because they were touched by a person that had looked within themselves and found the ocean. This is the engineering of the lineage and it is very simple. It moves on the principle of touch, of contact. It is irresistible and cannot fail. The Guru's shakti and the Siddha lineage are the most powerful and active rays of awakening present on the earth. They are the most certain modes of liberation. The process of awakening is not random in the slightest bit. It is very specific, personal and direct. It is because the Guru exists, because the Siddhas exist, because the lineage exists that those who seek to awaken are able to do so." ~ Mark Griffin